Sewing, Quilting & Embroidery Machines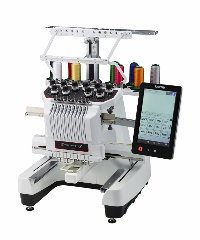 PR1050X - Entrepreneur Pro X
This highly powerful and efficient 10-needle embroidery machine has the ease-of-use and reliability that only Brother can provide. The PR1050X raises the bar for embroidery enthusiasts, crafters and home-based entrepreneurs. The PR1050X comes equipped with some of the most powerful design and editing capabilities ever built into a multi-needle embroidery machine. Just when you think you've reached the limits of creative freedom, look again...eXplore the possibilities!
Click for video
NEW!!
PR670E - Entrepreneur 6-Plus

Whether you're considering a home business or opening up your creativity, this machine is like the PR1050X but with 6 needles. It has the same 10.1" LCD touch screen display, built-in videos, color sort, high-speed acceleration, color shuffling, and intuitive color management.
Take your creativity to the next level with over 100 features!





Persona PRS100

The most versatile, single needle embroidery machine with Free Arm Embroidery! Its tubular free arm configuration gives you the flexibility and ease to embroider difficult to reach areas, plus its mere 18" wide footprint makes it the perfect addition to any room in your house.







XV8550D - THE Dream Machine™ 2w/Disney® Innov-ìs
Want to do it all? This machine is Brother's most powerful, technologically advanced machine - the one you've been waiting for. Words don't do it justice with 11.25" workspace, a 10.1" high-definition LCD display, and 9.5" x 14" embroidery area, you can create anything! Enhanced, fine-tuned and graced with refined new features to give serious enthusiasts, like you, an incomparable sewing, embroidery and quilting experience. Are you ready for luxury in every detail?
Click for video
VM6200D - Disney® DreamWeaver™ XE
Make all your dreams come true with this Quilting, Sewing and Embroidery machine, the virtuoso of the V-Series, the DreamWeaver™ XE. This is the exciting combination machine that has all the features that make the V-Series so extraordinary. This combination machine is packed with Brother exclusive and industry-first features. Tackle bigger, bolder projects than you may have dreamed of!
VM5100 DreamCreator™ XE Innov-is
The V series has now arrived from Brother with incredibly advanced features and a chassis that is over eleven inches. With 561 total stitches available, My Custom Stitch™ feature and 13 bobbin work embroidery designs, this machine will bring out the real designer in you. Technology has never looked so good as it does in the V-Series from Brother!
VE2200 DreamMaker™ XE Innov-is
DreamMaker™, part of the V series, is a powerful embroidery only machine with amazing new features that make embroidery easier than ever! With 318 built-in embroidery designs, 14 embroidery fonts, a large 7x12 embroidery field and Droplight™ positioning marker.
VQ3000 Dream Weaver™ V Series Innov-is
If you've dreamed of making incredible quilts and fashion creations, you'll love working on our large workspace, especially on the wide table included as well as the MuVit Digital Dual Feed Foot and Automatic Height Adjuster feature. Immerse yourself in the advanced machine that makes your hobby easier and more enjoyable!
VQ2400 Dream Creator™ V Series Innov-is
This versatile sewing and quilting machine was built to give you great features in an affordable V-Series machine with 561 sewing stitches and 3 sewing alphabet fonts. With all these features packed into our most affordable V-Series machine yet, why not starting creating today?
NQ3500D Q Series Innov-is Disney®
Quick embroidery speeds, Queen sized workspaces, high Quality functions with a 6" x 10" embroidery area, 173 built-in embroidery designs including 35 Disney designs and 11 embroidery lettering fonts with on-screen editing, pivot function make this machine the perfect combination sewing and embroidery machine!
NQ3600D Q Series Innov-is


From the Q-Series lineup, this sewing
and embroidery combination machine
offers new state-of-the-art features such
as the automatic thread trimming system.
It has a large 8.3" workspace, Automatic
Height Adjuster and the Pivot function, and
2 embroidery frames: 6x10 and 5x7.
NS2750D Innov-is
Manufactured with elegance in mind, this combination sewing and embroidery machine reflects a great new addition to your sewing room. 5" x 7" embroidery area.
NS1750ED Innov-is
Embroidery/Sewing


It sews, it quilts and it embroiders! It has a 4" x 4" embroidery area, 181 built-in sewing stitches, 125 built-in embroidery designs, 10 embroidery fonts and My Custom Stitch feature.
NS1600E Innov-is

Perfect for embroidery enthusiasts, this embroidery only machine can help you embellish and personalize your projects with state of the art features, including a 6" x 10" embroidery area.
NS1150E Innov-is
This embroidery only machine is like the NS1600E except with a large 5" x 7" embroidery area.
NS80PRW Innov-is Project Runway

Lightweight and portable, this affordable machine is packed with features, 80 built-in decorative stitches, buttonhole styles that will bring out your inner creativity.
NQ575PRW Innov-is Project Runway
The newest in the Q-Series, this is the perfect machine to offer flexibility and convenience. Improved performance with longer feed dogs for better stability is an added bonus!
NQ700PRW - Innov-is Project Runway
From the beginner or the experienced, this machine will allow you to be creative in your designs. This machine offers convenience, flexibility, and quality, all at an affordable price!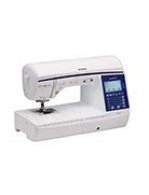 BQ950 Innov-is
Affordable sewing and quilting machine is ideal for quilters of any level with 240 built-in stitches, 58 combinable stitches, 10 styles buttonholes and 5 sewing lettering fonts.
BQ1350 Innov-is
Enjoy virtually endless creativity with 290 built-in sewing stitches and My Custom Stitch feature. Automatic Height Adjuster feature for consistent stitch quality. Sideways sewing, pivot function, lockstitch key.
BQ2450 Innov-is
If you have a passion for sewing and quilting, this machine is for you. The advanced feature MuVit Digital Dual Feed makes this the ideal machine for working on quilts or any project with thin or layered fabrics.
BQ3050 Innov-is


This versatile advanced sewing and quilting machine not only has the MuVit foot, but a Sew Straight Laser Vision Guide and a V-Sonic Pen for needle placement. Large 3.6" x 6.0" display screen.
Luminaire XP-1 Innov-is
This enlightened sewing, embroidery and quilting machine is light years ahead! Featuring state of the art StitchVision Technology, this machine empowers your creativity thru the innovative use of beaming light. Large 10-5/8" x 16" embroidery area and 13.1" from needle to arm.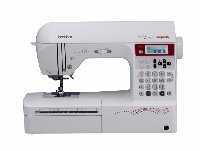 Simplicity by Brother SB4138
Simply Inspired, this powerful machine is loaded with high-end features at a simply affordable price. With 138 built-in sewing stitches, 10 buttonhole styles, and 3 lettering styles along with My Custom Stitch feature, this affordable machine offers advanced computerized sewing and quilting to take your passion for sewing and quilting to the next level.
Simplicity by Brother SB3150
Simply Inspired, this machine offers advanced computerized sewing and quilting with outstanding performance. This machine is sure to take your passion for sewing and quilting to the next level.
Simplicity by Brother SB1000T
Simply Creative, create stylish and fashion-forward clothing with ease. It has quality features for both beginners and experienced seamstresses alike. Convenience features help make sewing fun and exciting.
Simplicity by Brother SB700T
Simply Brilliant, this computerized sewing and quilting machine has the features that can add dimension, color, texture, and sophistication to decor and apparel. An affordable backup machine, great for taking to classes.
Simplicity by Brother SB530T
Simply Elegant, this durable sewing machine allows you to add style to your wardrobe. With advanced features, this machine belongs in the sewing room of every quilter and seamstress.
Simplicity by Brother SB170
Simply Affordable, this easy-to-use free arm sewing machine has the features to help you easily tackle your first sewing project. It is compact, lightweight and great for beginning sewers.
5234PRW Serger Project Runway
Do you want your projects to have a professional look? This easy-to-use serger will help your seams lie flatter, make rolled hems and secure seams. At up to 1300 stitches per minute, you'll save time as well!
NEW!! - CV3550 Double-Sided Cover Stitch
Allowing you to create a wide range of
cover stitches on all types & weights of fabric
for decorative and constructive applications,
it features single & double sided tri-cover
stitches, wide & narrow cover stitches, and a
chain stitch. It includes a free arm, LED light,
thread cutter, easy color-coded threading, a
pressure foot pressure dial, and snap-on feet.
It allows you to add double-sided cover stitching
to your projects for a special one-step finish!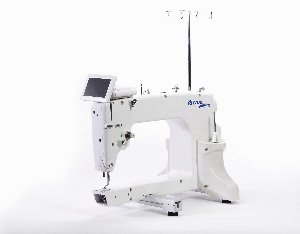 NEW!! DQLT15S Mid-Arm Quilting


Now you can quit from the comfort of a table!
This machine, when paired with the Dream Carousel Cabinet, is the perfect machine to dedicate to free-motion quilting. Up to 1800 stitches per minute, 5" LCD touch screen display. Enjoy freedom to do your free motion quilting from a side or front-facing position with the Carousel Cabinet.